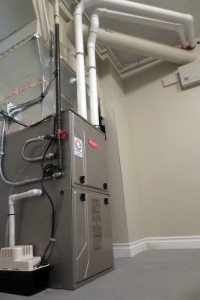 Heating your home is a major undertaking, and with so many options on the market today, choosing between one major brand and another can be an overwhelming decision. When it comes right down to it, furnaces and boilers manufactured today utilize the same safety features, controls, heat exchangers and even offer similar choices of efficiency. The difference between manufacturers isn't going to guarantee superior heating or lower utility costs. The greatest influence on the efficiency, operation and longevity of your furnace comes down to installation. You need a reputable, experienced and conscientious contractor. You need Efficient Air Heating and Cooling.
If you're in the market for a new heating unit, you've come to the right place. Efficient Air Heating and Cooling can help you pick a new, properly sized unit—and then we'll install it for you so you can quickly make use of it in your home. When you choose to work with Efficient Air Heating and Cooling, you can expect high-quality service and an experience that is as stress-free as possible. We want to be the first — and last — call you make for heating installation services.
What would a chilly winter be like without a reliable heating solution for your home? Efficient Air Heating & Cooling is your top choice for all heating services. We repair all makes and models of electric and gas equipment!
Do you have a heating system that fights you every step of the way, or one that simply can't cut it? When things go wrong with your heating system in the middle of another icy winter, you need fast, reliable, and accurate solutions that guarantee results. And that's why Efficient Air Heating and Cooling is here to help!
When you need heating repair in the Daviess County area, look to Efficient Air Heating and Cooling. Service is the cornerstone of our repairs with your comfort in mind. We know that no one likes to be cold, which means when your heater breaks, it needs to be fixed fast and reliable. We have some of the best trained technicians in the area. Each member of our repair team is highly skilled and certified, and wants nothing more than to bring you the quality solutions you deserve. Efficient Air Heating and Cooling will have your heater fixed in no time and get you back to comfort fast.
Every heating system needs an annual tune-up. Not only will your system run more efficiently, saving you money on utility bills, but you will also avoid inconvenient breakdowns. Plus, manufacturers offer warranties on their products, but many homeowners don't realize that annual maintenance is required by those manufacturers to keep the warranty in effect. Don't negate your warranty by not getting proper maintenance performed once a year.
Become a member of our Efficient Air Heating and Cooling Maintenance Agreement Club and Save! There's no good reason not to join our Club. You'll save money on tune-ups and get other advantages. You will save by receiving 10% off service call and all parts for being a member. Membership requires spring and fall checkups of equipment. It's fast and easy to sign up, give us a call and we'll get you signed up and saving money fast.
FRIENDLY SERVICE, EFFICIENT SOLUTIONS... We keep your comfort in mind.
Address
500 East Parrish Ave,
Owensboro, Kentucky 42303